The meta description tag is a tag in HTML, usually used to summarize the content of a page. Search engines show meta descriptions in search results mainly when looking for terms that are contained in the description. Optimizing meta description tags is a very important aspect of on-page SEO.
Table of contents:
How to write the best Meta Description tag
Headache: When Search Engines Don't Use Your Meta Description
Meta Description is a tag in HTML that describes information brief summary of a web page to search engines and users. Therefore, the Meta description should be concise and contains the most important content, they are appearing in the search results page to help users decide to visit your site or not, so it's an opportunity for you to write as compelling advertising to attract searchers.
However, depending on the user's query, Google may select text for the meta description from other areas of your page to give better results for the searcher's query.
Eg:
meta description tag appears in SERP
The meta description tag is placed in the tag pair of the HTML code
<meta name="description" content="Here is an example of a meta description tag. Content in the meta description tag will often appear in the results of search pages.">
Google says that:"Meta tags are a great way for you to give search engines information about your website. The meta tag is added to the section of your HTML page"
See Google talking about meta tags at: https://support.google.com/webmasters/answer/79812?hl=en
Optimal length
Meta descriptions can be any length, but Google typically cuts paragraphs to around 300 characters on desktop and 200 characters on mobile (this limit as of December 2017). Ideally, you should write the description tag between 50-300 characters.
Note that the "optimal" length will vary depending on the situation and your primary goal is to provide value and drive click-through rates.
Meta description tag, although not a direct search engine ranking factor, is very important in attracting users to click from SERPs. These short passages are your chance to "advertise" content to searchers, and they decide whether the content is relevant and contains the information they are looking for.
The page's meta description should be written in a natural, positive, non-spam way, using the keywords the page is targeting, but also creating a compelling description that searchers want to click on. It must be directly related to the content of the page it describes, and unique to no other page on the website to avoid duplicate meta descriptions.
Purpose of the description tag
Its main purpose is Help visitors from Google search read and decide whether to click on your link or not. In other words, meta descriptions to generate clicks from search engines to your page.
Google announced in September 2009 that both Neither meta description nor meta keyword is a ranking factor for Google for web search.
However Meta description can affect a page's CTR (click-through rate: is a ranking factor) on Google can positively impact a page's ability to rank.
For that reason, it is very important to optimize the description tag as well Title tag optimization, it's important to work hard focus on writing meta descriptions as compelling advertising to bring target users to your website.
How to write the best Meta Description tag
The meta description tag has the function of an advertisement. It draws the reader to a website from the SERP, thus is an important part of search marketing. Creating a compelling description and using important keywords can improve the click-through rate for a website.
For Maximize click-through rate On search results pages, it's important to note that Google and other search engines often bold keywords in the description when they match the search query. This bold text can attract the eyes of the searcher, so you should combine description writing with search terms as closely as possible.
Write meta descriptions like compelling ads
Like title tags, it's important that the meta description on each page is unique. Otherwise you will end up with the SERP results look like this:
Avoid duplicate description tag content for different pages
One way to keep meta descriptions from overlapping is to programmatically generate unique meta descriptions for pages automatically.
The meta description should have an active call to action
Of course. If you consider the meta description as an invitation to the page, you should not only make it yes, but should take the opportunity to write a description that appeals to the reader.
Some Positive Invitation, the right words are not too exaggerated such as:
looking for more information
Discover now
please try
Free of charge
Write an attractive description card, you can refer to the following articles on the art of writing:
This is very important. Google will detect meta descriptions that trick visitors into clicking. It can even penalize sites that generate goat-headed meta descriptions that sell dog meat. Besides, it will probably increase bounce rate and only negatively impact your site.
So you should write a meta description that matches the content on the page, writing truthfully does not exaggerate the truth like when the user gets to the page but the reader is disappointed about what you advertised in the description tag, like that. time onsite will have a negative impact on rankings.
If the search keyword matches the text in the meta description, Google will tend to use the meta description and highlight it in the search results. That will make the link more relevant.
Keywords are bolded in the search results page
Any quotation marks used in the HTML of the meta description, Google will truncate that description at the quotation marks on the search results page. To avoid this from happening, your best bet is to remove all non-alphanumeric characters in meta description. Avoid using quotation marks in the description tag to avoid being truncated when appearing on the SERP.
If the page is targeting long-tail keyword traffic (three or more keywords), it is sometimes advisable to let the search engine decide for itself what text to choose for the meta description. The reason is simple: When search engines choose a meta description, they always display the keywords and surrounding phrases that the user searched for.
If you write bad meta descriptions, what you choose to write can reduce relevancy, which search engines do naturally, depending on the query.
Warning when omitting meta description tag: Note that social sharing sites like Facebook often use the page's meta description tag to appear when the page is shared on social media. Without the meta description tag, social media sites may just use the first text they find, which can create a bad user experience when seeing your shares on social media.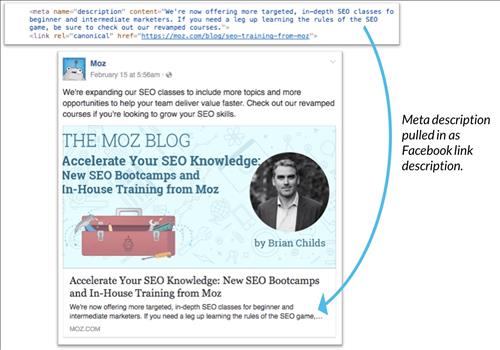 Meta description appears in facebook social media
In some cases, search engines may not use your meta description in HTML. What happens is unpredictable, but it often happens when Google thinks the meta description isn't currently fully responding to a user's query and identifies a paragraph on the page that is more relevant to the searcher's query. .
You are interested in applying SEO to your articles and need a detailed set of documentation to be able to self-study, please read: Guide to doing web SEO in 9 days with Full PDF Documents
Summary
Optimizing the Meta Description tag for the website is one of the important Onpage SEO factors, this done well will help you improve the ability to click through the results pages, as well as on the website or when sharing via social when users see it.
See more: How to write a Sapo Paragraph for an attractive article that attracts readers
Good luck!
Dung Hoang, Seothetop

Reference: Moz & Yoast SEO

Source link: What is Meta Description? How to write a description tag as an attractive ad
– Witgie.com