Installing AMP for websites gives your pages a chance to show up visually in Google Search leading to increased click-to-page rates (increased CTR) and increased mobile user experience.
As predicted by SEO experts about Google Search trends in 2017, we clearly see that Google has prioritized Mobile and AMP is a great project of Google to increase the user experience on mobile.
Still targeting the user is Google's top priority, we also do not go against this trend because only when we meet the user's requirements, then Google will love you. Therefore, updating technology to improve the quality of web services is a vital factor for businesses that own websites that want to market through Google Search.
Content:
Show AMP page on Google Search
Instructions for installing AMP for websites
AMP Setup Guide for Websites
Here's a look at AMP technology and how to install AMP for your website:
AMP (Accelerated Mobile Pages) is a Google project that accelerates the mobile page load speed of Google's AMP cached validated AMP pages and this enables faster page loading for a better user experience. great user experience.
The AMP format is supported by many platforms, like Google Search. If a site is listed in Google search results with a valid version of AMP, Search can direct mobile users to AMP in the cache.
Get an overview of AMP at: https://www.ampproject.org/learn/overview/
Show AMP page on Google Search
AMP pages that appear in Mobile Search have the lightning bolt icon and the word AMP as shown below:
AMP pages combined with Rich Cards will have the opportunity to show up visually in Google search, increasing clickability (increasing CTR rate) as shown below.
An AMP message box with visuals and horizontal scrolling (carousel) with 1 AMP page with results, increasing the chances of being displayed, increasing the number of stories shown in the search results, great, isn't it?
Learn how to add Rich Cards to your mobile site: Instructions to put Rich Cards on the page
Instructions for installing AMP for websites
Google's guidelines for a Google-friendly site also apply to AMP. Applying AMP to your website helps you take advantage of the benefits of AMP on Google Search. Here are the steps to install AMP for a website:
Design: Create web pages according to the AMP specification.
Storage: Host your AMP at a URL related to your main site.
Discover: Make your AMP discoverable.
Accuracy: Check your page is written in valid AMP HTML.
Structured data: Mark up your content with structured data.
Status: Track your AMP reports in Google Search Console to detect errors.
Erase: If you want to remove your AMP page from Google Search results or from the web, here's how.
Your AMP must be compliant AMP HTML specification. If you're just getting started, learn how to create your first AMP HTML page.
The AMP code of the page is as follows:
You refer to how to create an AMP page according to detailed instructions from AMPProject: https://www.ampproject.org/docs/tutorials/create
Host AMP page on URL
You should host your AMP page at a user-appropriate URL. For example, if your canonical page is https://seothetop.com/seo-onpage-t3-c278.html, you should host the AMP page somewhere like amp.seothetop.com/seo-onpage-t3-c278 .html or https://seothetop.com/seo-onpage-t3-c278-amp.html, instead of at test.seothetop.com/seo-onpage-t3-c278.html. Because when a user clicks a link to your AMP page from Google Search, the AMP URL is visible to the user in the browser (like any other website) and rendering a URL is completely irrelevant. Your main site can confuse users.
How Google Discover and Index AMP
Wondering how Google will find your AMP page? Google will index AMP pages if other pages link to them or discover them.
If your page has both AMP and non-AMP versions, add the following links:
On any non-AMP page, refer to the AMP version of the page to let Google and other platforms know about it: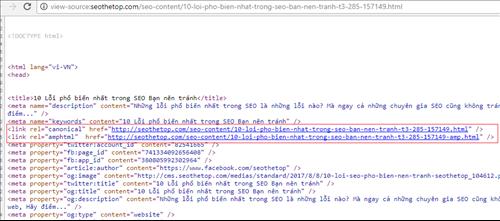 On a non-AMP page
On the AMP page, add the following text to refer to its non-AMP standard version:
For standalone AMP pages (those that don't have a non-AMP version), the AMP page must specify itself as the canonical version:
Standalone AMP pages will also be indexed if they can be found. Make sure that standalone AMP pages are linked to other indexed pages or listed in your sitemap (sitemap.xml).
Make sure your AMP page is valid according to the guidelines, use the tool provided by Google to check https://search.google.com/test/amp. Pages with invalid AMP are not eligible for some features in Search.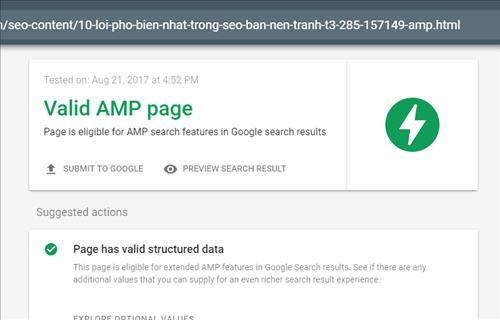 Valid AMP green is the tree is valid
Structured data markup allows Google to show your content more prominently in search results. For example, AMP articles that include the appropriate markup attribute can be displayed in a carousel.
Learn structured data at: https://developers.google.com/structured-data
Be sure to check your structured data and follow Google's structured data policy at the link https://developers.google.com/structured-data/testing-tool.
If your AMP page falls into any of the following categories, you can embed structured data in your AMP page to enable AMP-related features in Google Search:
Articles: If your site generally has factual content, news or blog posts. Use the Article, NewsArticle, BlogPosting or LiveBlogPosting object type.
Recipes: If your AMP includes a recipe with ingredients.
Google Search Console provides an AMP status report, which shows a list of successfully indexed AMP pages on your site and any AMP-related errors found.
From Google Console go to Search Interface > Mobile Optimized Page
The number of valid and indexed AMP pages is 36, and 7 pages are having errors that need to be fixed, to fix we use the AMP validity check tool above
Why aren't my AMP-related features appearing on my tablet or desktop?
Google AMP-related features, such as the Top Stories carousel, are currently mobile-only. While AMP itself works on most device types including desktops, we currently have no plans to expand AMP-related features to non-mobile platforms.
Do AMP pages only work on mobile devices?
Are not; AMP pages are viewable on any type of device, so the best practice is to create your AMP pages with responsive design.
How does AMP render on desktop?
AMP pages render equally on both mobile and desktop screens. If AMP supports all the functionality you need, then you can consider creating your site as standalone AMP pages that support both desktop and mobile visitors for the same Page. However, AMP on desktop will not have search-related features in Google Search results.
Good luck!
Dung Hoang, admin SeoTheTop

Source link: What is AMP? Instructions for Installing AMP for websites
– Witgie.com