In communication as well as in business, it is extremely important to arouse curiosity and direct people to act according to their desires.
People are only interested in an issue when they are curious about the "mystery" surrounding it. The AIDA formula is a Copywriting formula built to "direct someone else's interest to a certain topic".
The AIDA model is designed to follow the customer journey to increase Awareness, Interest, Desire and Action. Many marketers find AIDA useful as they plan their marketing communications strategy.
What is AIDA?
AIDA stands for 4 words Attention, Interest, Desire, Action. The AIDA model identifies the cognitive stages that an individual goes through in the process of purchasing a product or service. It is a buying funnel where buyers go back and forth at each stage, to assist them in making a successful purchase.
Here are four effective steps to help convince someone about something they don't know.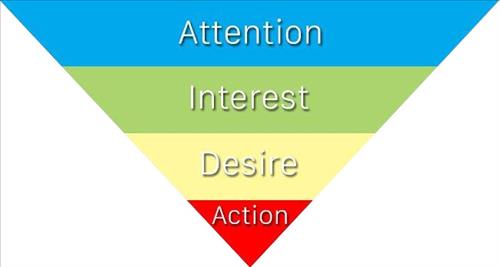 AIDA formula
What does AIDA stand for?
First you have to get their attention. Then show them useful, interesting traits to spark interest and excitement. Next is to give them the desire, the desire and finally direct them to act according to their purpose.
This is one of the best formulas, being applied successfully in many fields such as communication, advertising, sales…
1. Attention: Attracting attention
Awareness (A): create brand awareness or association with your product or service.
The first step you have to approach, attract people's attention to the content, the area you want to convey. How in the midst of so many choices in life, people stop to explore and choose what you have to offer. You can use a lot of different methods such as comparison, using impressive words, repeating many times… to pique the interest and curiosity of those around you.
2. Interest: Create interest, interest
Attention(I): generate interest in the benefits of your product or service and enough interest to encourage buyers to initiate further research.
Attracting people will only have a certain effect without lasting and stable if you do not show them something new and attractive in it. Creating enjoyment is one of the most important and difficult steps.
You need to research and find out carefully to understand the outstanding features of your topic and products, and at the same time understand the needs and desires of your target audience to arrange and select the elements. , the most relevant message.
You don't need to make your presentation too long, that will only confuse others and leave nothing in your head. Instead, just be brief but right, you will arouse interest from others.
3. Desire: Arousing desire, desire
Desire(D): for your product or service through 'emotional connection', showcasing your brand personality. Shift consumers from 'like' it to 'want it'.
From eliciting interest, hitting the needs of the target audience, you have a part of success in hand. Because most people will want something new to satisfy their curiosity. This is the right time for you to show them how what you have to offer helps them.
4. Action: Action
Action (A): CTA – Move buyers to interact with your company and take the next step. Download brochures, make phone calls, join your newsletter or engage in live chat, etc.
The above 3 steps are the premise to help you go to success at this final stage. When you have enough interest, interest and desire, you can fully take the initiative in leading people to follow the actions you desire. They may agree with your theme, suggestion, introduction or accept to use the product provided by you.
Specify the specific action you want people to take to get the most out of it.
5. Retention: Retention:
We all know that this is the key to upselling, upselling, referrals, Advocacy and the list goes on…
The additional "R" is sometimes added by some Marketers to show the importance of continually building relationships to give AIDAR model
How to use the AIDA model
How to use AIDA model for marketing planning?
The AIDA model can be called a communication model rather than a decision-making model, as it defines companies, how and when to communicate in each stage as consumers will use different platforms. different platforms, engage at different touchpoints, and request different information across stages from different sources.
So using this to help plan your targeted and relevant media campaign can be a start.
Ask yourself some key questions throughout the stages:
Awareness: How do buyers know about our products or services? What is our outreach strategy? What is our brand awareness campaign? What tools or platforms do we use? Which message is appropriate?
Attention: How will we gain their interest? Content strategy What is ours? Is social proof available to support our reputation? How and where do we provide this information? For example, on the website, via video, customer ratings,
Desire: What makes our product or service desirable? How do we personally interact to create an emotional connection? Chat online? Respond instantly to Twitter feed? Share tips and advice?
Act: What are calls to action and where do we put them? Is it easy for consumers to connect and where do they want to find it? Think about the marketing channel/platform you are using and how it interacts, via email, website, landing page, or incoming call, etc.
Retention: What is the recommendation to stay loyal? At what stage and how do we encourage this online and offline activity?
AIDA Formula examples while writing copywriting
Get attention
Illustrations, Fonts, Font size Highlights
Promotions for events, holidays, birthdays
Discount, Buy 2 get 1 free
Give a reason to buy
Outstanding benefits
Is a product without 3-MCPD (carcinogenic substance)
ezCloud is the only hotel software in Vietnam that connects channels OTA automatic room sales on Booking, Agoda, Traveloka, …
Prove your credibility
Reason to Belive : Explain the technology clearly
Celebrities used
Industry experts give their opinion
Confirmed by major partners
Press, TV praise
Video demo clearly works or customers say
On-site video recording test
Livestream proves the truth
Awards/records
Call to action
Rare
Limited
Specific time
An example of a Milk Bag
THE NO.1 SUNITA MILK BAG IN PRICE AND QUALITY – THE MARKET TOP

Milk storage bag line is being BEST SELLING in Vietnam market
HIGH-QUALITY materials, BPA-free, have been rigorously tested, so it is SAFE for babies.

LIMITED QUANTITY – WAIT IS OUT NOW
Promotion applies at ABC Store from March 17-31, 2018

Call the free hotline 1800.xxxx for advice/order
Click the link to know the nearest store:…
More examples of AIDA is different:
"You will be one of the first to receive a free ticket to the biggest SEO event of 2019. This opportunity will be for others if you still hesitate, because the number is only 10!!"

"For the first 5 customers to order, they will receive an extra set of genuine accessories along with many other valuable promotional gifts",

or "The first 5 customers who order will receive a 30-day trial offer",

or "you will be able to pay for the product in 3 months if you are one of the 5 earliest customers"

Example of a real estate product: "Buy an apartment in Golden XYZ project with 0% interest for 12 months, only for customers who register before November 30, 2018".

Add urgent details to the message, such as "Gift for customers who order before Sunday" or "Buy 2 get 1 free".

One more example of Netflix's AIDA Model step by step
After understanding the stages, let us better understand through the AIDA model for Netflix in India. It's been a big task for Netflix to attract and convert users accustomed to free content. Here's what Netflix does to attract them
STAGE 1: Creating Awareness
Netflix uses several popular advertising mediums to inform users about products. The means are:
Advertising on Youtube
Display Ads (Adwords)
PHASE 2: Generate Interest
Once users know and access Netflix landing pages, they will be provided Get a free one-month trial to discover all the shows and features on Netflix.
STAGE 3: Securing Desires
As viewers experience some features, they get used to a seamless viewing experience. At this point, the following extras create a desire to purchase subscriptions:
Netflix exclusive movies, shows and documentaries.
High resolution video
Support for any device (watch everywhere you go)
Many TV series and movies from Hollywood and other industries in the region.
Multiple profiles in one account
Option to download and watch offline
No ads when streaming video
Personalized recommendations of TV shows and movies, based on viewing patterns
View multiple screens
Continue watching videos from where you left off
Support low speed internet devices, etc
STAGE 4: Activate Action
When users are attracted to the product, Netflix converts them into actually paying customers. This is done by offering various subscription plans and the option to stop the subscription at any time.
You need Content writing ideas and check what keywords users use to search for their content, Semrush's Keyword Magic Tool function can help you.
Sign up for Semrush

14 days free domain to analyze and choose the right keywords for your content
Seothetop
The source:
BrandVietnam
Vinalink
Smartinsights

Source link: What is AIDA: Examples of Effective Copywriting AIDA Formulas
– Witgie.com