When it comes to learning about how to best optimize your website for search engines, it can seem like the buzzwords or terms that have been created during your exposure to SEO leave you confused or not. know about it.
Today, I want to talk about an SEO term that many of you may not be familiar with, it is about "Canonical" – This is not a new word, but it is a bit confusing and all will be understood by me. better explain itself and explain around it. If you want to get a lot of traffic coming from Google search then all optimization factors need to be well standardized.
Since early 2009, all major search engines have supported the canonical tag. However, not many web developers or users implement canonicalization of their URLs despite the benefits. This could be due to a lack of understanding about canonical tags, its benefits, or how to use it.
What are Canonical links?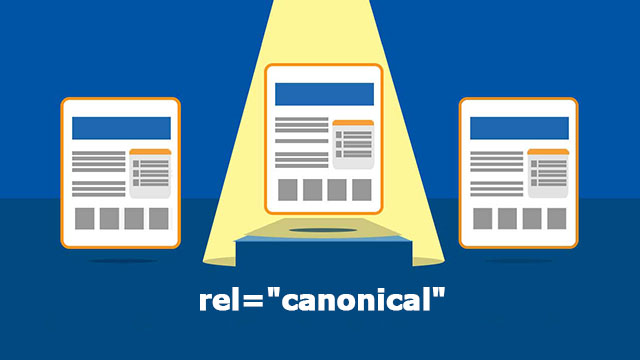 Search engines like Google work by "crawling – crawl" through a very large list of web pages, analyze the content on the page, and categorize the results through a cross-referenced database of variables such as the site's URL and last modified date for fast runtime when any query is entered into the engine.
A canonical link is a special designation embedded in a web page's code to indicate that a particular page should be considered the source of information when search engines display results to users.
Other factors will take into consideration the specific sites search engines show every user, the device they're using, and the specifics of how they search for their term, but canonical links have a deep impact. color to algorithms.
To see if your link has a tag or not, you can check the source code with a browser by right-clicking on the screen of that link interface and selecting View page source. For example, I use Google Chrome browser to view the page SEO services this.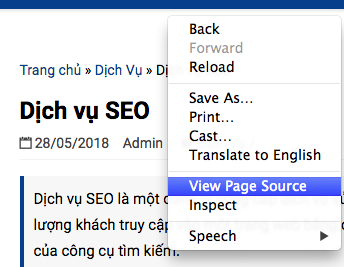 Next to find out if your source code content is canonical or not, you use Ctrl + F and type in it with the word canonical. Usually this tag is placed just below the meta name="description" (for websites using WordPress)
<link rel="https://www.vietnetgroup.vn/

canonical

"

 

href="https://www.vietnetgroup.vn/

https://www.vietnetgroup.vn/dich-vu-seo.html

"/>
I took a more detailed screenshot so you can see where the canonical link is placed within the
in the HTML language.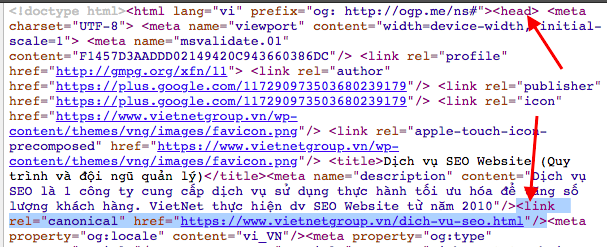 Beyond these basics, canonical links vary in how you use them to boost your search results and site layout.
Why should you care about Canonical links?
This type of link was introduced jointly by Microsoft, Google and Yahoo in 2009, designed to help clean up link structure with duplicate content for search purposes.
Simply put, HTML tags tell search engines which pages they should pay attention to in a group of roughly identical content. The example I took below will give you a very useful look at this rel="canonical" link tag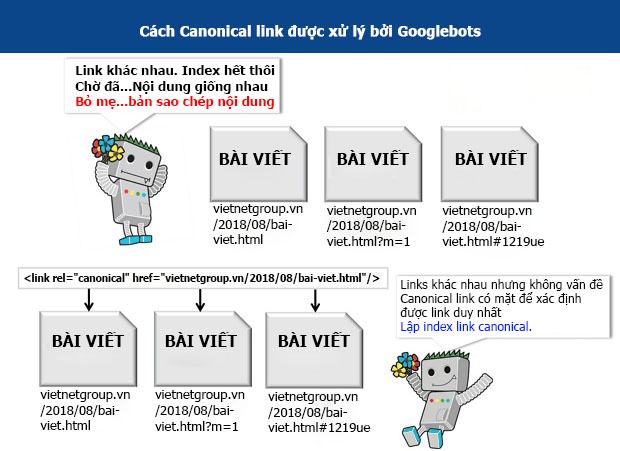 link with ?m=1 you often see on blogger platform when viewing on mobile devices.
If you do not do so, your website is easily lost the opportunity to receive traffic, pull effort SEO and search engine penalties that may be imposed on your website.
This is just a small example of why a webmaster might want multiple URLs that forward to the same content.
Learn more about search engines indexing and duplicating content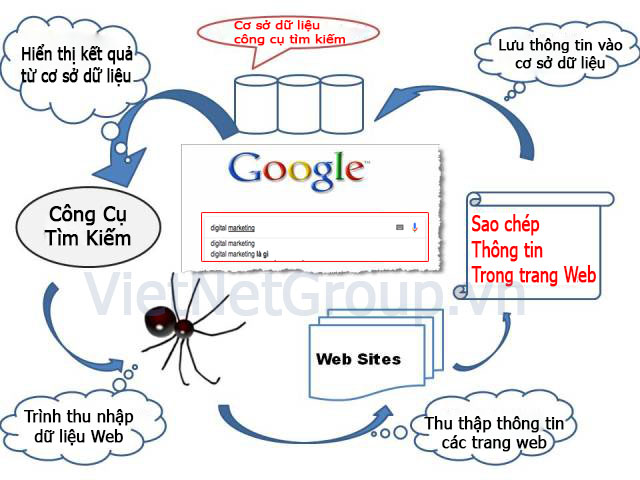 In a content management system, best practices for new content on the site include sorting along multiple cross-reference points of data and items' metadata.
Archived by date, content-related category, home page presentation, and original URL – this data is passed to search engines as each content has the same information as the unique URL that must be indexed item and list by each of those URLs.
Each page can have multiple entries (I'll give an example below). This results in 'duplicate text ignored' lines of text seen in some search results, even when many of these entries appear in the site's database.
Canonical links let search engines know the order of importance of each of those entries. Each of these entries will be indexed into the vast trove of information gathered by the crawler.
The search engine will then perceive the remaining indexed pages as part of a group of followers, rather than as individual entries. This helps the site to rank higher because the results are not split between duplicates.
The example below shows the possible entries of a page.
example.com
www.example.com
www.example.com/
www.example.com/index.html
www.example.com/index.html?var=1
www.mysite.com/en/us/

Why should you use Canonical links?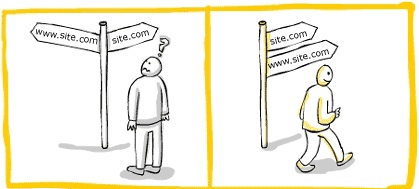 The main benefits of proper use of canonical links stem from directing traffic on URLs with similar content and improving the reliability of data gathered from your web analytics.
While search engines give precise details on how their algorithms work, improperly classified duplicate content is thought to negatively impact the ranking assigned to a website and can the possibility of inciting a direct penalty if they believe you are intentionally misleading the crawler to get more traffic.
Search engines do so to provide more satisfying results to their users and this helps them retain their users, therefore your taking advantage of the service they provide is required adhere to their principles.
Another reason to use is quality organic links. One of the ways Google determines the quality of a link is through the number of visits and click-through rate. So if your site doesn't have a canonical link, the traffic will be split between separate URLs even though they're technically the same site.
Don't get confused: 301 Redirect
Canonical links should not be confused with your 301 redirect, as explained above you will probably understand why I say that. But here I will be more detailed because we need to understand.
Basically, a 301 redirect is a permanent redirect from one URL to another. Redirecting sites link different URLs so that search engines rank all addresses based on domains from links within the website itself.
Although there are similarities in the performance of 301 and canonical links. When both perform the same task, redirect to a specified link. If a 301 redirect redirects users to the link you specify, canonical helps search engines identify your destination link.
When should you use 301 redirects instead of Canonical links?
While both require search engines to treat multiple pages (or URLs) as a single page, a 301 redirects all traffic to a specific URL and a canonical link tag does not.
If your site structure has changed, a 301 redirect is a good option. If your site has duplicate content, but you need to measure traffic to each URL, use canonical links for the benefit of search engines.
Here is a video by Matt Cutts explaining the benefits of 301 redirects via rel=canonical:
Let's do Canonical link
Now that you have a better understanding of Canonical links, you can start customizing the options for your site.
But you should note, you should do these things with people who have a good understanding of web engineering, information technology or in the process of reading and implementing, if you do not understand any steps, you should ask people who have can help you.
Hopefully what you do to meet the standards of the search engines will help you get free traffic in the future.
Source link: What are Canonical links? Why you should Canonical your URL
– Witgie.com