Regular content updates will help you grow your SEO. Whether you have a blog, corporate website or e-commerce web, updating your website regularly has many benefits. Update frequency depends on many factors, and here's what you'll learn in this article – read best practices for how often you should update content for your site.
Why is content updating important?
Keeping your website content up to date is not an easy job to do, it costs both time and money. On the other hand, the benefits from doing so – especially the long-term benefits in terms of value and cost savings.
The benefits of keeping your website content fresh
I will define what 'new content' means in the next section and also provide some guidance on how often you should update a website depending on its type, as it is now important is to understand the benefits from doing so.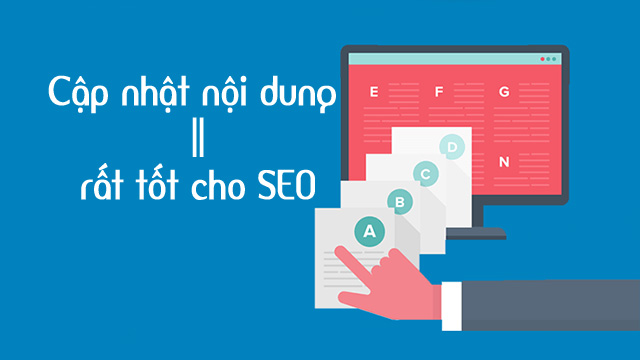 It is very good for SEO Search engines love content, and especially new content. They like to have long quality posts in their index to satisfy their users. A regularly updated website is crawled more often, has more pages in the index, and is more likely to develop SEO by applying internal linking methods ( internal links ) the best.
Very good for social networks If you are using social media marketing to promote your blog, you know that one of the most important success factors is the content you post on social networking sites. Many of the problems you encounter are those that destroy your efforts simply because of the lack of content. Having a regularly updated website will also provide you with data for your social media advertising programs.
Match your users Websites aim to serve users and give users new content that makes them happier. A happy user will likely return, convert, sign up, purchase, or recommend your site to others. I am not saying this is as easy as counting 1-2-3, you need to first get your site accepted by users for it to receive some reader engagement and once you Once you get to that point, everything becomes easier.
It's a signal that your website or business is up and running – Imagine you visit 2 identical websites that sell the same product for the same price but one of them has an update blog, support forum or news section. Other things being equal, which site would you trust more? Some of them have updated content to give you the feeling that it's still active and that they care about their customers.
The same is true when you visit a product support forum. If the last update was made on the forum 2 years ago, would you trust that company and buy their product knowing their support is non-existent?
Updates are the core of content marketing – Everyone talks about content marketing in recent times many people say it is a new way of SEO and this is also true. Without content you cannot do much online marketing, with a steady stream of good content you can do a lot.
Many businesses both online and offline are using content to generate revenue and drive brand awareness. Examples abound: Lazada uses content to drive their social media planner, Mobile World promotes their products and services through a variety of well-supported content. . Lots of examples of businesses from small to large use content as a key element for all marketing.
What is new content?
Before getting into the publishing details, let me explain further to help you understand what I mean when we say that a website needs to be updated with 'new content'. This is also something that many people misunderstand and this makes their job of updating their content even more difficult.
'New Content' is not necessarily brand new content that is unique to the site, it is new content for the particular site AND is NOT found anywhere else on the online web in the same format .
For example, the article you are reading is 'new content' for digital marketing because it is unique, original and not found in any other online site. If you search google 'Frequently updated content is great for SEO' you will find hundreds of articles but the particular content you are reading in this post is unique and exclusive to this site.
So 'new' not only means news items or new concepts or theories (which are obvious) but also something new for particular websites or blogs.
How often should new content be added to a website or blog?
Each site's mission is different, and as such, the update requirements are different. You cannot expect a company blog to be updated as often as a regular news blog like a news or sports blog.
I have had the opportunity to work with clients in various fields and help them with website updates and blog management and in the major web features which can be classified in the following categories:
Sports / Fashion / Celebrities / Technology / Lifestyle / Finance / Newspapers / Magazines
In this category I have added websites or blogs that cover trending topics. For these sites updating with new information several times per day is crucial for their success. There is no limit on the number of updates and the more the better. Most of their visits come from returning visitors, from social media and Google news. Articles are usually short and pointless and contain lots of images.
Website / Blog Casual
This category includes blogs like the one you're reading. In other words, websites provide often fresh, natural content (content that is relevant over a long period of time). In this category you would expect to find personal development blogs, guide blogs, informational blogs, wikis, marketing, weight loss, research, analysis, travel tips, reviews and much more.
As a general rule 3 updates per week is more than enough, there is no need to update daily unless you have the resources to do so.
Company Website / Blog
These are business websites that showcase a company and the products/services they offer. This is one of the most difficult types of websites to update regularly because once all the initial data setup is done and company information is published, you don't have anything useful to publish.
Luckily there is a workaround and that is to create a blog section for the company. Let me give you a few examples of how a blog can help a business website get useful new content on a regular basis.
Law Firms – They can use blogs to publish procedural articles and information and news on legal topics.
Auto Tire Company – Articles on the use of different types of tires, practical articles related to tire maintenance.
Investment companies – Articles on everything related to the financial sector, from economics to investment advice.
Online job sites – Articles about trending or in-demand occupations, how-to articles ('How to prepare for your job interview', for example).
The above are just a few examples that prove that a blog can be suitable for almost any field and industry. What you need are ideas and resources to do the best blogging.
The same publishing rules apply as regular websites, i.e. updates can be 2-3 times a week.
Why Most Corporate Blogs Fail: On numerous occasions advising company blogs on why they fail and although this is not the main topic of this article, I will Mention the most common failure reasons:
Not allocating enough resources to make it work (both money and time).
Lack of useful, unique and informative content.
Wrong choice of blogging platform.
Cannot measure efficiency and return on investment from blogging.
Don't give it enough time.
Bad article title choice.
Not doing enough keyword research.
E-commerce website
Content marketing is one of the most effective ways to promote your online store. Let me outline some examples of how content updates can work for a page e-commerce website.
Imagine that you have put your e-commerce website full with your products. For each product you have description, rating and pictures. So what content can you publish in your blog?
Articles/Videos on how to use your product
Detailed product reviews
Comparative rating of similar products
Posts that are indirectly related to your position. For example, if you sell engagement rings you can provide wedding related blog posts, how to recommend etc.
Announcement of new products, changes to existing products
Notifications about special offers and upcoming events
How often should you update your ecommerce blog? The answer is simple, when you have new HIGH QUALITY content to publish. For an e-commerce site, you need to be careful not to push potential customers away but to give them the content they need. If you can do this on a regular basis that is better, but I know from experience that this is quite difficult to do.
Can you outsource to update the website?
If you are an independent or sole proprietorship, all you have to do is create a publishing schedule and allocate the necessary time to create the necessary content and updates for your website.
On the other hand, if you are a small to medium sized company you find that things get a bit more complicated as most probably you don't have the resources in your company to manage blogging and updates. In such cases, outsourcing your website updates is a good option. It is not free, it will cost but if you leave this to a professional company that knows how to run a business blog, the long term benefits are what you will get. Before making a decision about outsourcing, make sure they have an easy-to-understand pricing table and they can show you real examples from companies using them. content marketing services for website.
Read the article What is standard SEO content? 12 best writing practices to get the technique going right
How often do you update your website or blog? Do you agree with my suggestions above?
Compilation: Phong Vu
Source link: Updating new content regularly is good for SEO
– Witgie.com