Images will increasingly appear in search results, Images bring a post to life and also contribute to your website's SEO. And statistics show that image searches account for 20%. That's why you shouldn't ignore image SEO optimization
If you are not optimizing the images on your website, you are missing out on the opportunity of users to know about your website. Not sure how to optimize images for search engines?
6 simple and quick steps to optimize image SEO:

Step 1: Use the keyword in the image name
Step 2: Use the keyword in the ALT attribute of the image
Step 3: Optimize pages containing images
Step 4: Place the images near the content containing the keyword
Step 5: Limit the number of images per page
Step 6: Use image sharing on social networks and sites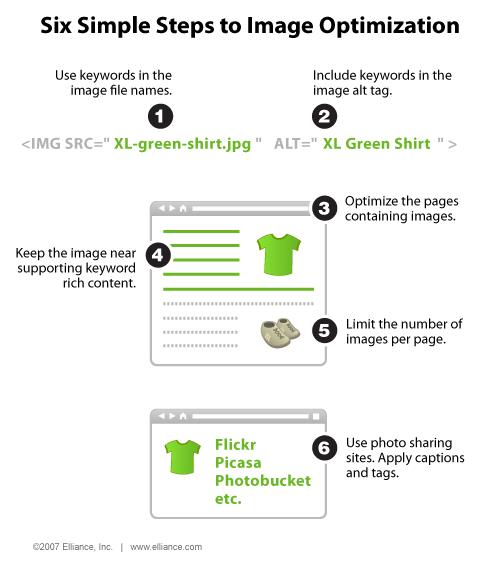 6 steps to optimize image SEO
A detailed guide to optimizing Images for Search Engines:
Prepare images to use in your articles
Once you've found the right image – whether it's a photo, illustration, or chart – the next step is to optimize it for use on your website.
Choose the appropriate image file name
Image SEO starts with the filename Image. You want Google to know what the image is about without looking at it, so use your primary keyword phrase in the image filename.
It's simple: if you're writing an article about Hanoi's Big Hat House, the file name shouldn't be DSC4536.jpg. An appropriate filename would be nha-hat-lon-ha-noi.jpg, making sure the main subject of the photo (and your post) is at the beginning of the Image file name.
Choose the right image format
For images, NS matching format does not exist; it depends on the type of image and how you want to use it. In summary, we recommend:
Choose JPEG for larger photos or illustrations: it will give you good results in color and clarity with a relatively small file size;
Use PNG if you want to maintain background transparency in your image;
Or use WebP instead of JPEG and PNG. It will produce high quality results with smaller file sizes. You can use tools like Squoosh to convert your images into WebP.
Use SVG for logos and symbols. With the help of CSS or JavaScript, you can manage images in SVG format, such as resizing them without losing quality.
Once you've chosen the right name and format, it's time to resize and optimize your images!
Dimensions for image SEO
Load time is important for UX and SEO. The faster the website, the easier it is for users and search engines to access (and index) the page. Images can have a big impact on load times, especially when you're uploading a large image to display it's really small – for example, a 2500×1500 pixel image displayed at 250×150 pixels – because the whole image still has to be loaded.
So resize the image to match the actual display size on areas of the web page.
Use responsive images
This is also necessary for SEO and if you are using WordPress it is done for you as it was added by default from version 4.4. Images must have this srcset attribute, which makes it possible for you to serve different images on each screen width – this is especially useful for mobile devices.
Reduce file size
The next step in image SEO is to ensure that your scaled image is compressed so that it is served at the smallest possible file size.
Of course, you can just export the image and experiment with a quality percentage, but I prefer to use 100% quality images, especially given the ubiquity of retina displays and the like these days.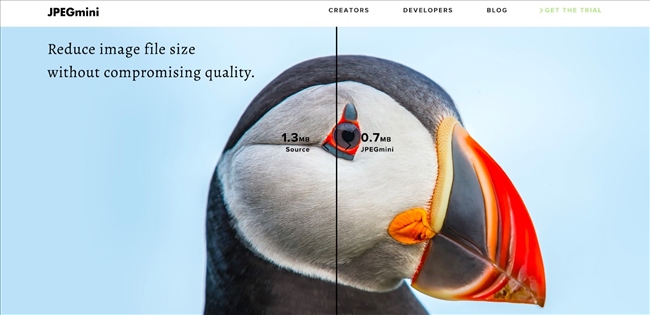 Tools like JPEGmini can greatly reduce image file sizes with ease
Some tools to reduce image size like: ImageOptim or like JPEGmini , jpeg.io.
Add images to your posts
Your image is ready to go, but don't just throw it in your post anywhere. As mentioned earlier, adding it close to the relevant textual content helps a lot. It makes sure the text is relevant to the image as well as the image to the text, which users and Google like.
Caption: Caption
Image captions are the text that accompanies the images on the page – if you look at the images in this article, it's the text in the gray box below each image. Why are captions important for image SEO? Because people use them when scanning an article.
In 2012, KissMetrics went even further, stating that:
"Captions under images are read on average 300% more than the content itself, so not using them or using them improperly means missing out on an opportunity to attract a large audience of potential readers. ."
Do you need to add captions to every image? No, because sometimes images serve other purposes. Decide if you want to use yours for SEO or not. Keeping in mind that over-optimization should be avoided, I'd say you should only add subtitles where it makes sense to the visitor while one is there. Think about the visitor first and don't add captions just for image SEO.
Alt text and title
Alt text (or alt tag) is added to the image so there will be On-page description text if the image cannot be displayed to the visitor for any reason.
"In situations where there are no images for the reader, be it because they have images turned off in their web browser or are using a screen reader due to a visual impairment, the alt text ensures that no information is available. or any functionality is lost." quote Wikipedia
Make sure to add Alt text to every image you use, and make sure the Alt text includes the SEO keyword phrase for that page (if appropriate). Most importantly, describe what's in the image so that both search engines and people can understand it. The more relevant information surrounding the image, the more important the search engines consider the image.
Add structured data including images
Adding structured data to your pages can help search engines show your images as rich results. While Google says structured data doesn't help you rank better, it does help achieve clearer listings in Image Search.
There's more. For example, if you have recipes on your site and you add structured data to your image, Google may also add a badge to your image showing that the image belongs to a specific brand. recipe. Google Images supports structured data for the following types:
Product: Product
Video
Recipe: Recipe
OpenGraph and Twitter Cards
Earlier, I mentioned using images for social sharing. If you add the following image tag to the
section of your HTML page like so:
That will make sure the image is included in your share on Facebook (and OpenGraph is also used for Pinterest, for example).
Image sitemap
If you are a web developer, you may be wondering about XML image sitemaps. I would like to depict this as an image in an XML sitemap. Google is clear on this:
Alternatively, you can use the Google image extension for Sitemaps to give Google more information about the images available on your pages. Image sitemap information helps Google discover images we might not be able to find (such as those accessed by your site's JavaScript code) and allows you to point to images on the site file that you want Google to crawl and index.
So you should add images to your XML Sitemap that will help Google index your images, so remember to do so for better image SEO.
Summary: Image SEO
Image SEO is a combination of several factors. With Google getting better at identifying elements in images every day, it makes sense to make sure the image and all its elements contribute to a good user experience as well as SEO.
Keep these things in mind when adding images to posts:
Use relevant images that match your text
Choose a good filename for your image
Make sure the image size matches the displayed image size
Use srcset if possible
Reduce file size for faster loading
Add captions, if appropriate, to make page scanning easier
Use image alt text. No title text needed
Add structured data to your images
Add OpenGraph and Twitter Cards for images
Don't break the left reading line with the image – align the image to the right or center
Use images in your XML Sitemap
Provide all the context you can!
Besides contributing to SEO and user experience, images can also play an important role in conversions. So don't underestimate the importance of image SEO on your website!
Dung Hoang, Seothetop

Source link: Image SEO: The simplest image SEO optimization guide 2021
– Witgie.com