One of the most confusing things when it comes to WordPress SEO is how to optimize your Categories and tags pages. Many people don't know exactly what role these pages play and how they can impact your SEO efforts.
In this post, you will learn the difference between a category page and a tag page and what you should consider when optimizing your WordPress site for SEO.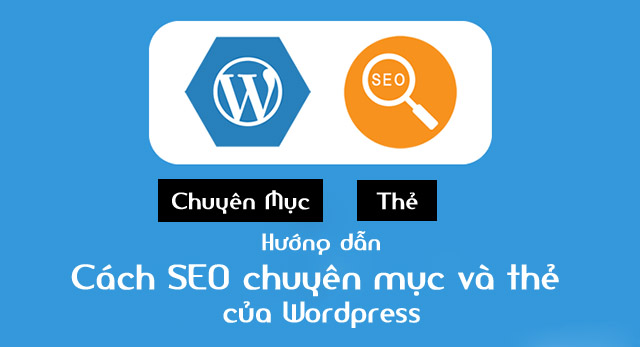 What is the role of category pages?
Category pages allow you to group different articles together. It's like your main blog page but it only shows posts from a specific category.
When you create a post you have the option to add it to one or more categories. Pages do not have this option by default.
A properly optimized WordPress category will display the post's category in the path, like the example below.

Category pages can use the same template as your posts and the same sidebar or corresponding widgets. This depends on the theme you are using but in most cases an article page and a category page have the same layout.
Usually the category page (also known as the Archive page) will only show the title, image, and intro of some posts, and will have pagination at the bottom to help users navigate through the articles. later again.
When thinking about your blog structure and navigation, it is a common practice to group your posts into categories and display these posts on your main menu. A popular website has the following structure:

Category pages and SEO
Overall from the list of category pages for SEO there are some problems, duplicate content being one of them. The category page shows excerpts of some posts and doesn't have any unique content as all content is already available in individual posts.
The same is true for pages e-commerce website where the category page will display a list of the products that make up that category without its own unique content.
Category pages are difficult to rank high in search results
Because of the above, Google is more likely to get the page (or post) from your site instead of the category page. Search for any keyword on Google and you'll find that category pages rarely show up in search results.
The only case where Google may display a category page is when a site has many related pages, and the site's SEO structure helps Google choose which category pages to display on the articles page.
When are category pages good for SEO?
In blogs or corporate websites, category pages are mainly used to help users navigate a website and find what they are looking for faster and easier.
In cases like when you have an e-commerce website, service website or even travel website, category pages can serve as landing pages and are also very important for SEO.
Let me explain this with an example:
Let's say you have a travel website that recommends villas for rent in different regions of Vietnam. You have category pages for your main locations eg 'Villas for rent in Ho Chi Minh', 'Villas in Hanoi' etc and article pages for each villa eg 'VietNet Group' – Villa with swimming pool', 'Villa PV – 3 Bedroom Villa in Hanoi' etc
When users search Google 'Villa in Tp. Ho Chi Minh', you want them to come to your category page so they can see all the villas available at that location without having to see the villas page of an article.
If you have experience with such situations, you know that Google may many times choose not to show category pages because they perceive article pages to have more valuable and unique content.
How do you solve this problem?
There are several things you can do to help Google show the category page in their results.
First, you need to make sure that category pages have unique titles and descriptions. When you edit a CATEGORY in WordPress you can configure the title and description of the category pages by adding values ​​to the relevant fields provided by your category or in the Yoast SEO category settings ( if you are using Yoast SEO).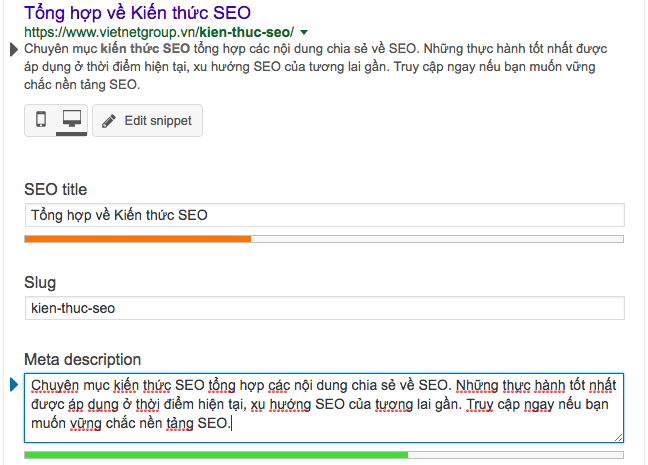 Your title and description, the same rules apply as in articles or pages and homepage.
Next, to solve the problem of not having any unique content on the category page, you need to add a few paragraphs to the 'Description' field of the categories and normally they will be displayed at the top of the page . I say 'normally they will be displayed' because it depends on whether the interface you are using is configured to show category descriptions. On this website of mine, I don't show it because I don't focus on SEO categories, but on the Websites I do Web design (especially with e-commerce sites) I always make the most suitable perspective.
If everything is configured correctly, your category page should have a unique title, a unique H1 tag, and a helpful description.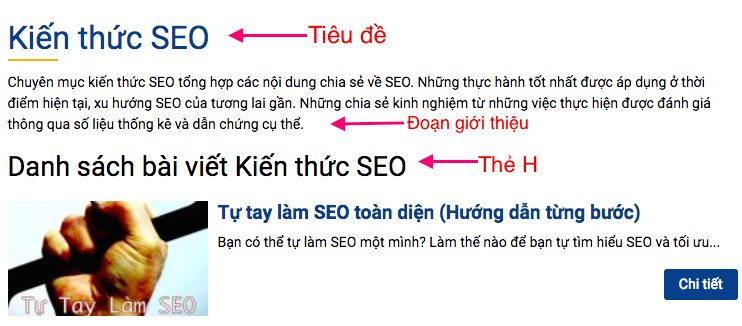 Before proceeding to the next step, if you have pagination for your category pages (or if it shows options like 'next post' or 'previous post' at the bottom of the page), make sure that all subsequent pages have URLs that point to the first page as explained in detail in point #14 of this post.
Everything that applies to On-Page SEO needs to be applied on the category page SEO, because it is also a page that is no exception.
Advanced SEO for category pages
The problem explained above with Google choosing a page instead of a category page persists even after you optimize your category pages, so you need to take it a step further and perform additional checks. check/change the following:
Make sure that you have breadcumbs enabled on your site and that the links in the breadcrumbs menu are clickable and have the appropriate Schema. I give an example of a website that sells wooden furniture for worship, the link when viewing the page of the altar of the god of wealth will look like this:
Home >> Villa for rent in Ho Chi Minh >> VietNet Group – Villa with swimming pool
'Villa for rent in Ho Chi Minh' should be a link pointing to the category page
Next, you need to add internal links in the individual pages that will point to the category page using the appropriate anchor text. For example, you could edit the description in the product VietNet Group – Villa with Pool and add a link to help users navigate back to 'Ho Chi Minh Villas for rent'. These internal links will help Google realize that your category pages are important and will also help users navigate your site better.
Finally, check you're not confusing Google by placing the category page titles in the titles of the individual pages. For example, there is no title for the villa: 'Ho Chi Minh Villa for rent – ​​VietNet Group – Villa with swimming pool'.
In the header for individual villa pages, you should provide details about their unique characteristics, and site content, not about their category.
The above concepts can be applied to any e-commerce website or even blogs. This is an advanced SEO technique to utilize your category and achieve better pages.
What are Tag pages?
When you add values ​​in the tag section of your post, WordPress will create a page for each tag. The URL of a tag page is http://www.domain.com/tag/ten-the.

A tag page is similar to a category page in that it allows you to group your articles together and often uses the same interface as your archive (category) pages.
Tag pages are not shown in menus unless you add them and they have the same problem (lack of unique content) as category pages.
When you visit the TAGS page in WordPress and EDIT a TAG, you can make the same SEO tweaks as explained in the categories, to make your tag pages unique and interesting.
In the majority of cases, tag pages are used only to aid in user navigation and for no other purpose.
Tag pages can have the same title as category pages or even articles and this is not good for your SEO. I've seen a lot of cases on client sites where tag pages are showing up in the search results listings (instead of the main pages) and this is not good for user experience or for display. of a company in search results.
SEO best practices for tag pages
The best practice is that tag pages are 'noindex' and 'nofollow'. By doing so Google (and other search engines) will not take these pages into account while indexing your website and this will save you a lot of time and also make your site better. Yours is more optimized.
Besides specifying noindex and nofollow in tag pages, you should also exclude them from sitemap mine.
If you don't want to prevent Google from indexing your tag pages because they are so important to your site, you should use them in your pages carefully and avoid having too many link tags. on each page. Watch this 3-minute video from Google, where Matt Cutts is discussing the role of tags in SEO.
How to noindex and nofollow tag pages
This depends on the themes/plugins you are using. If you are using Yoast SEO latest update (7.0.2 has a slightly different interface), then choose according to the image I took below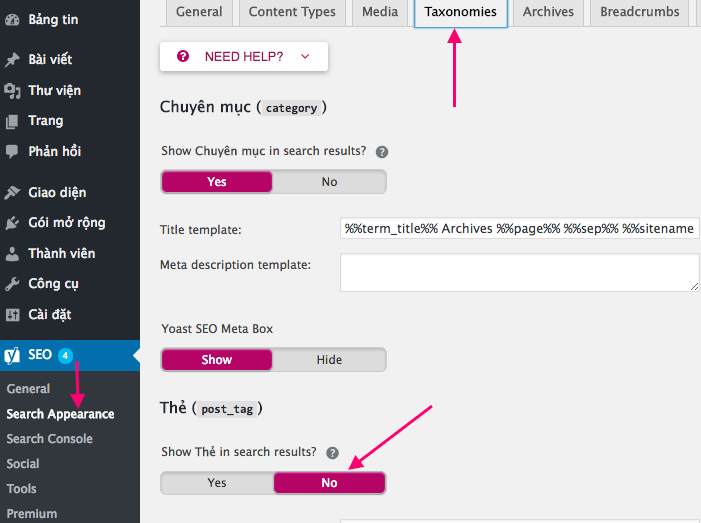 In previous versions of Yoast SEO, there was a sitemap option for you to customize, but in the latest update, Yoast SEO has integrated into the option in the image above so we will not have to choose any more.
CONCLUDE
Category pages and tags are displayed by default on all types of WordPress websites. Many people overlook them but as explained above, this can negatively affect your SEO efforts.
Before making any changes to the category page, think about your site structure and navigation. If the sole purpose of category pages is to aid in navigation but not the pages you expect (or want) to have in the search results, then you should consider removing them from the map. sites and also 'noindex' them.
If the category pages are important for your SEO, like a travel, product, etc. site, optimize them and make sure you send the right signals to Google from the rest of the pages.
Just like related tag pages, keep them in the index only when you really need them. It is unlikely that Google will highly rank page tags in their results so best practice is to noindex them.
VietNetGroup has provided SEO VNG services since 2011, in this service we will do all the work required for the Website to achieve the best performance. If you are interested in the service, you can access it at this link: https://www.vietnetgroup.vn/dich-vu-seo.html
Source link: How to SEO WordPress Tags and Category Pages
– Witgie.com