During the many sessions I attended seminars on how to write content and optimize content for SEO, I noticed that many topics did not fully exploit the heart of content optimization. We are not only interested in the text elements of a page but must carefully consider the use of images, videos and optimize it.
Images are very important for SEO. In a recent study that very detailed analysis of 1 million Google search results concluded that "pages with at least one image rank better than content without images".
Aside from their SEO value, images and other visual media elements (videos, audio) are also crucial to the success of your content for a number of other reasons. You can check out the article: Why is content the most important thing on your Website? I also mentioned many factors explaining this.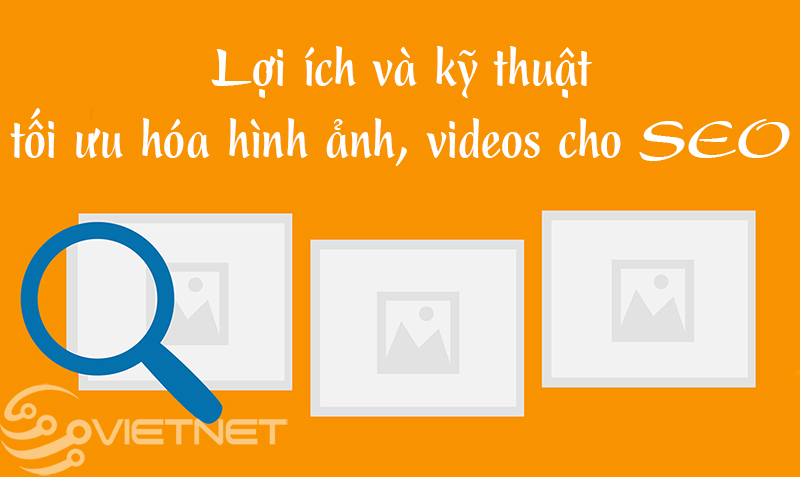 Benefits of using images in your content
First benefit What you notice right away is that your content will become more interesting, which means that when visitors come in, they are more likely to stay and read your article. It's also not surprising that content with relevant images gets more reads than a page of content without images.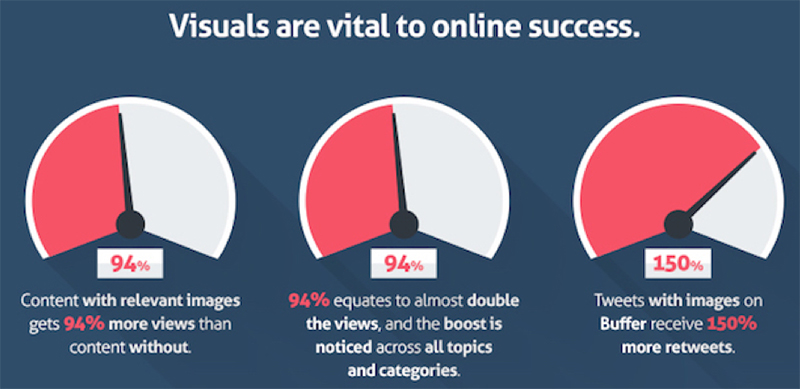 Studies have shown that vision is the key to online success.
Sources of images and infographics about that research statistics you can refer to at: This quicksprout link
MondayReaders are more likely to share a page with an image to social media sites, and that shared post stands out more than articles that simply contain text. According to the same study, posts with images will be reloaded up to 150%.
Tuesday, Using images makes it easier for you to explain a concept or create a stronger emphasis.
Take for example right from this article, if I don't take screenshots, it's hard for me to imagine the description in words for you to understand, instead I use images, my description becomes should be a lot easier, and easier for you to read, too.
Wednesday, it makes your SEO work easier by giving search engines the right signals about your content through image search.
How to SEO images here?
There are several factors to keep in mind for optimizing images in your content. When you add a new image in WordPress your screen will look like below and it is the place to optimize your images for better SEO.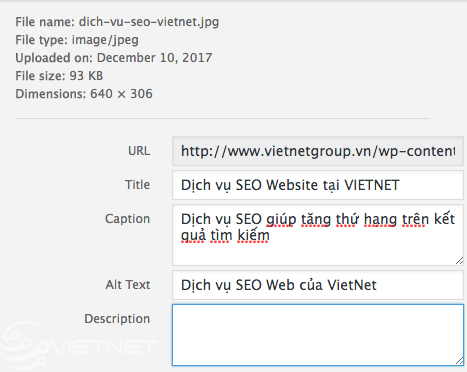 See below for what you need to enter in the image above:
Filename: The name of the image is the first thing to check, before you upload the image to WordPress then the image name should be informative and descriptive of the image. When you buy an image or take a picture with a phone or camera, they usually have a name like: IMG00001.JPG or something that doesn't mean anything.
Instead, you should rename your image to have a more meaningful photo name. For example, your image is of a very beautiful ant dog, you should put "con-cho-kien-de-thuong.JPG" or "dich-vu-seo-vietnet.jpg" as in my example above. mentioned. In other words, try to describe the image in a few words and use it as the filename of the image separated by a dash "-"
File size: As a general rule, the smaller the image size (in bytes) the better. Large images take a long time to load and this can negatively impact the user experience, especially for mobile users.
Best practice is to use image optimization tools like: imageoptim (for Mac users) can reduce the file size of the image without losing its quality. For all the images I use in my article, I first open in Pixelmator (similar to Photoshop) and then export them in png or jpg. And knowing there are significant image size optimization tools, before uploading to WordPress I also use optimize images to reduce the file size even more.

There are software images that support size reduction up to 60-70%
On WordPress, you can also install additional Image Optimization Plugins: ewww image optimizer, this plugin will help you reduce all the size of the image when uploading without affecting the definition quality.
Responsive images: This I just said briefly, because from WordPress version 4.4 onwards, WordPress has supported this. That is when you upload 1 large image, WordPress will automatically generate different small size images and it is automatically displayed for each different user device case: e.g. for example computer, ipad, mobile to help content load faster.
Alt text: Alt text is probably the most widely used element in SEO. Search engine crawlers are not very good at seeing what this image is, this will still be improved by future engines but they still need the help of Alt text to talk about the image. that picture
Alt text is used to describe the content of an image to guide data collection programs as well as tools that can't see the image to understand what the image is about.
When writing Alt text for images, you need to keep the following in mind:
Do not use dashes "-" in your Alt text
Use keywords that are relevant to the content of the page, but don't overdo it
Alt text is short and on target
Some people (myself included) tend to use post titles for Alt text in featured images, although this is not the most efficient way, it is acceptable and practical. usually, common, normal.
Google has very detailed instructions for Webmasters on optimizing this image. THIS IS THE LINK of that post
I quote Google's key guidelines on this below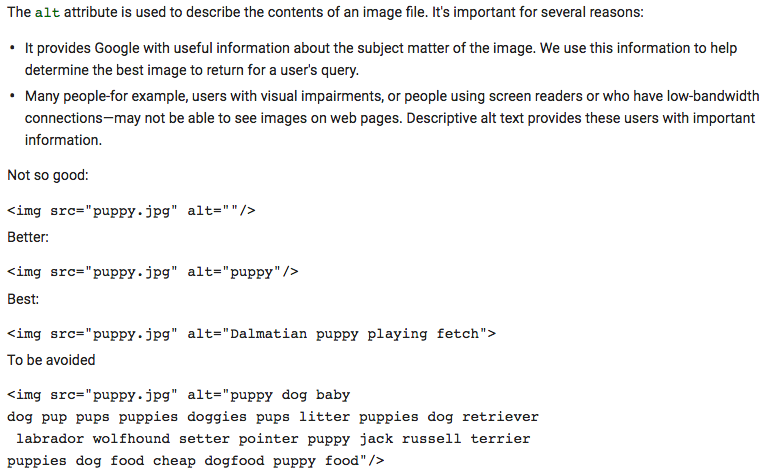 Caption and Titles: Besides ALT text, search engines can use your image's title and caption to better understand the audience of your image assets, so it's important to provide them with these values.
Position: You can position your image anywhere you want in the page but if you want a search engine to consider a particular image as a key image of your content (maybe that is an image already you are unique, useful), then you need to add it close to the top with relevant alt text, image title and clear caption.
Use graph meta tags: This is a protocol introduced by Facebook in 2010. The concept is similar to schema markup where you use tags to help crawlers identify important pieces of content and make sense. of them.
Graph tags allow you to specify what images Facebook (and other social networks) will consider when users click the SHARE or LIKE button from your website. When you have a page with more than one image, you can use the og: image tag to tell FB which image to use.
The best way to add graph protocol support to your WordPress site is to install facebook plugin.
Image sitemap: I explained the importance of having an optimized XML sitemap in this post but you can enrich your sitemap to provide information about your post images or use a dedicated image sitemap.
If you choose to include images in your existing sitemap, you can refer to the example tutorial below:

If you use Yoast SEO to generate your XML sitemap, the images are already there. If you want a separate image sitemap file you can use this plugin.
You can check the Google Webmasters console (SITEMAPS option in CRAWL) to see how many images from your site are in Google's index.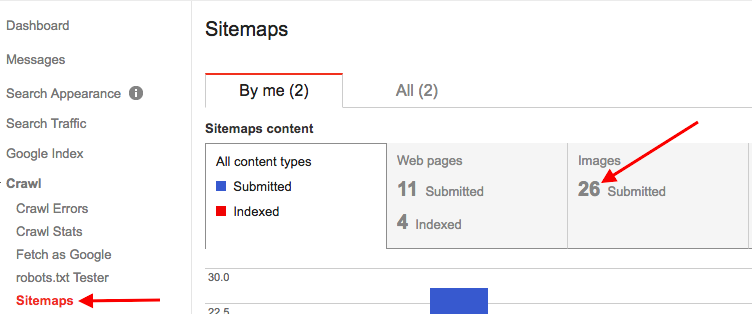 How to optimize Videos for SEO?
Besides images, the next most popular visual element is video. People prefer watching videos instead of reading text, and it's no surprise that YouTube is the second largest search engine in the world.
In this article, I will explain how to SEO video when you add it to your WordPress site and not on YouTube or any other service.
Similar to images, Videos have their own schema and sitemap format. Both are essential in helping Google understand what your video is all about in order to be properly indexed and a candidate for higher rankings.
Schema for Videos: This schema markup is not visible to users but the tags are used to help search engines when indexing your videos. The example below shows how to create a Schema for a video.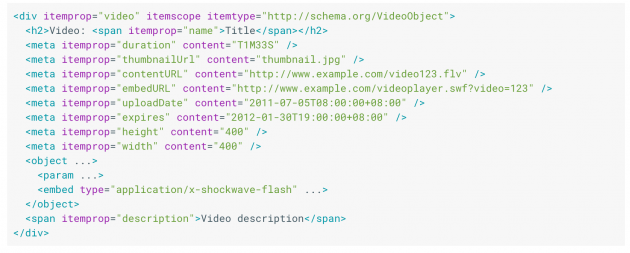 There are 2 ways to add to your WordPress site. The first way is to hire a developer to create the necessary configurations for your template and provide you with shortcodes that you can use to set up your videos, or the second way is to use plugin.
The most reliable plugin to generate Schema and also video sitemap is plugin Yoast SEO Video. It is not a free plugin but it is one of the best plugins that can do both tasks efficiently and easily.
Video Sitemap: Video-specific sitemap like the example below: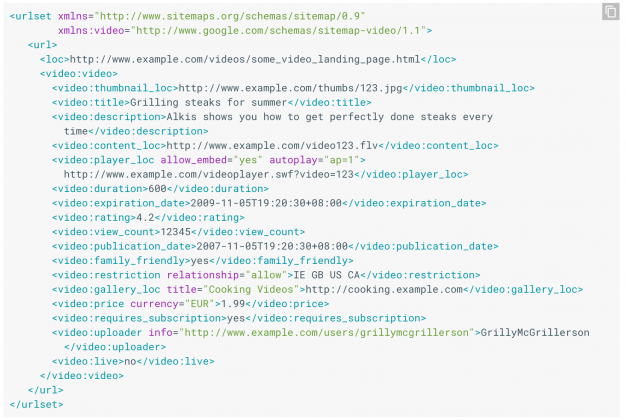 If you are using the Yoast Video SEO plugin to create it for you that's fine, but if you want it's free you can use this plugin.
Since both of these tasks (adding a Schema and creating a video sitemap) require programming knowledge, I recommend using the recommended plugins, which will save you a lot of time when try to make these changes in your code.
For better results, what you do should ensure that:
You use meaningful titles and descriptions in tags that are relevant to the video. Don't forget that these are the tags that search engines will use to understand your video. The title and description should be unique for each video you add to your site.
Specify a location for the video thumbnail, making sure it's at least 160×90. The thumbnail can be used in search results along with other information about your video.
Create a dedicated page for each of your videos. The page should have proper Schema markup.
Check your robots.txt and make sure that Google can access the videos.
Once you submit your video sitemap, log into your Google Search Console and check if there are any issues with video indexing. (If you do not understand well about Google Search Console, you should read this article of mine.)
---
EPILOGUE:
Visual elements are important in SEO perception and are also important for making your content more interesting and readable.
In my experience, many people have not done any optimization when using images in their content. The reason is because they don't know what to do and secondly they don't have the time or don't want to do it.
As you read above, image SEO is a simple task. You reduce the file size as much as possible, give it a meaningful filename, give it ALT text, a title and a caption, and add it to your sitemap.
This is not a time consuming job and the benefits outweigh the time it takes to do it.
When it comes to SEO Videos, things are a bit more complicated. You have to provide a valid Schema and a specific sitemap format so using a plugin is the way to go.
For both cases, don't forget to pay attention to the text values ​​you provide in the different fields (alt text, video title, video description, etc..) search engines use to index your images and videos.
If you are using a WordPress Website, read my 7 ways to optimize WordPress site speed
Source link: How to optimize your images, videos best for SEO
– Witgie.com