Backlinks are links from other websites to your website – is the most effective way to improve your ranking. Not all backlinks are created equal. Some backlinks will not improve your rankings at all, and some may even have a negative impact. So you should focus on getting high quality backlinks.
Not all backlinks are the same, the value of each backlink is different, there are good backlinks and there are bad backlinks, if there is a link to your website, at least some of these factors To complete your link profile, the content below will present the elements of a high-quality backlink.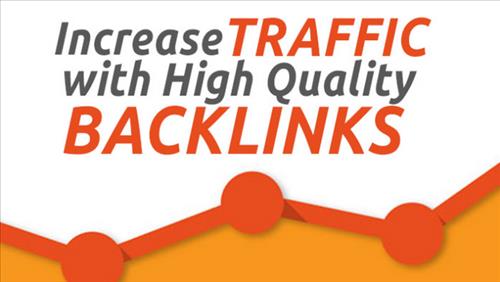 High-quality backlinks increase traffic and search rankings
Table of contents:
What makes a high-quality backlink, every SEO consultant will have a slightly different opinion on this topic, however, most will agree that a good quality backlink will include a number of factors listed below. listed below:
1. Generate Backlinks from Relevant Sources (Relevance)
Search engines want to provide relevancy in search results their backlinks, so it makes sense to evaluate backlinks, this is the main factor affecting the position sites rank in search results. Backlinks can be relevant on different levels.
Search engines look at the overall relevance of the linking page, the relevance of the particular page to the link on it, and the relevance of the content directly surrounding the link.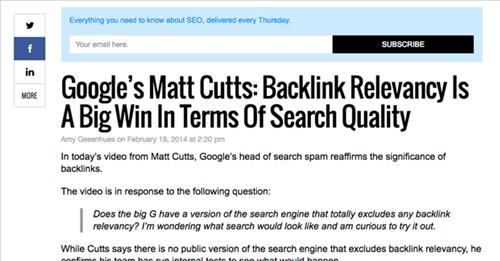 Backlinks from relevant sources are highly appreciated by Google
Check out more articles on the same topic: Build white hat backlinks without worrying about penguine
2. Create Backlinks From Trusted Sources
It makes sense that high quality would come from a high quality website and a high quality site that is also a very trustworthy website. To determine if a website is trustworthy, search engines use a set of trusted websites (e.g. Wikipedia, BBC, Huffington Post, etc.) hard to get links from these sites.
The fewer the number of outgoing links on a site, the higher its TrustRank and the higher the quality of the links from that page.
This aspect of backlinks is often forgotten. The primary purpose of links, before search engines started using them as a factor in their algorithms, was to add value to a page by directing visitors to resources. relevant to the topic of that page.
Visitors still click on these links as often as they made the internet and having a link in a prominent position on the highly rated page will make for a high quality site because regardless of the ranking will bring Give your website a target audience.
The quality of a backlink increases if the words that make up the link's clickable text are the same as, or similar to, the words you're trying to boost your rankings for. It's not natural to have so many incoming links made up of the same thing Accurate anchor text
Therefore, you should diversify your anchor text using many phrases: exact, partial match, synonym, naked link (show raw URL), etc.
If you are trying to rank a website for the keyword 'SEO consultant', the main anchor text is 'SEO consultant', good variations would be 'professional SEO consultant', 'reputable SEO consultant' and 'Top SEO Consultants'.
5. Backlink in Content is the best?
Content backlinks (content backlinks placed in the body of the article) are more likely to be editorial links, exactly the type of link that search engines value most, and if a link is included early in the page. a piece of content then it is natural to assume that the author of that content considers it an important link.
Therefore, a backlink within the main content of a page and to the top of that content area is considered to be of higher quality than a link lower down the page or in the sidebar or footer.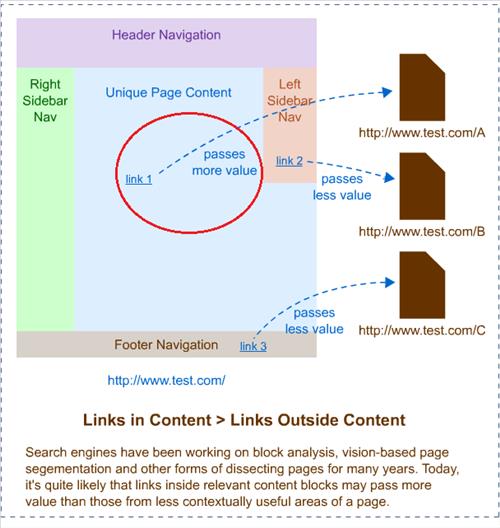 Backlinks in content are the best
PageRank (Google's PR or Moz's DA, Ahrefs' DR) is the most basic and obvious metric to use when assessing the value of a backlink – the higher PR of the page where the link is located, the quality of the link the higher the end.
All websites start with a PR of 0 (or N/A) and a page's PR can increase and decrease over time.
Also, the PR value that Google shows for a page is only updated for PR for about 3 months or so, but in the algorithm it is updated continuously.
7. Place Backlinks From High Authority Sites
If the backlinks to your website are from a high quality website, especially sites in the same niche as yours, it will indicate to the search engines that your website should be placed on the same level as your website. High quality websites.
If the links on the page go to low-quality websites, then your website will easily be judged as a bad quality site.
There is a strong correlation between higher rankings for a website and the number of unique websites (i.e. different domains hosted on different IP addresses) linking to that page. Backlinks have different values,
for example 10 links from 10 different websites is better than 100 links from 3 different websites. Therefore, for a new link to your business website to be considered high quality, it should come from a different website, in the same field, relevant and reputable.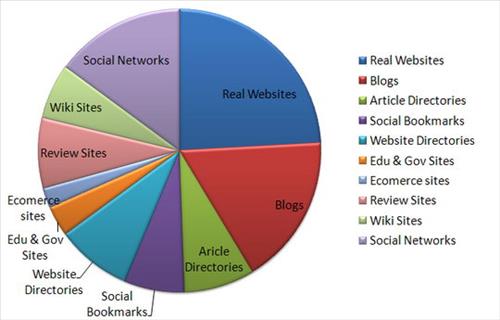 Diversify backlinks from many sources
Link exchanges have been widely abused in the past, with the result that the value of mutual links can decrease rankings.
Reciprocal links are still valid and certainly don't risk their consequential penalties, however, if you're looking for a link of the highest quality, it should come from a website. which you also do not link to from your own website
Take a look at all the outbound links the site is providing. Too many outbound links can mean you'll share with all the other sites it's linking to – giving you less of a Google benefit than pages with low outbound links.
Trust and The authority that flows through a page with backlinks to your site will be split between all the links on that page and so the fewer links there are on a page, the better the quality of the links on the page. high, As trust and authority are adopted less and less diluted.
It depends on a number of factors, but as a rule of thumb, having one link to your site sharing a page with less than 10 other outbound links would be considered fine.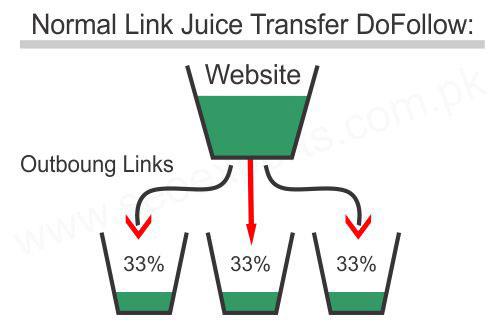 Link juice – the more links out, the less value the pages get
The easier you can get a backlink, the less value it is likely to have. When a backlink is easily created, thousands of people will do it before you and thousands of others will do it after you – including your competitors if they take the time to review. Your website's backlink profile.
If a competitor repeats one of your links, that link's value has been nullified in the SEO competition against that competitor.
Take a look at the site's links if they are nofollow links. If you're trying to rank (especially in Google), nofollow links won't help. So you better look for sites that don't put nofollow in their links
Consider all the sites to which it gets links. Are they reputable sites? Are they relevant to your niche? Maybe you can get links from those sites too!
Paid links can and often do, improve rankings, however, they cannot be classified as high quality backlinks because of the risk they carry.
Search engines make it clear that acquiring backlinks for the purpose of improving website rankings is against their guidelines and found websites can be penalized. So consider carefully when thinking about buying backlinks because it has many potential risks.
Link signals tend to decay over time, popular sites are often outdated, and eventually fail to earn new links. Hence it is important to continue earning additional links over time. Called FreshRank, search engines use new signals of links to gauge current popularity and relevance.
Summary
By now you must have understood what a quality backlink is, and how to get them is not easy and not too difficult.
Reveal: The link building experts they use Content is really useful for their target audience, when your content is really good they will bring your Content or a part of your content and link the source to it. your site.
In developed countries it will be like that, you want to get 1 backlink first you need to follow the principle of linking to the cited source, and others do the same with your source content.
See more articles:
Good luck!
Dung Hoang
The source: SeoMark

Source link: How to Create Backlinks: 15 Elements of a Quality Backlink
– Witgie.com