The Google Panda algorithm launched in February 2011 applies penalties to sites with low-quality, spammy, or thin content. Furthermore, sites with Keyword Stuffing, Poor User Experience, and plagiarism pay a price.
Google searchers generally don't want to see shoddy content or content copied from other sites or unhelpful information. It is important for webmasters to know that low-quality content on a part of a website can affect that website's rankings.
You should therefore evaluate all the content on your website and try to improve the overall quality of the pages on the whole website. Removing low-quality pages or improving quality can help rank higher.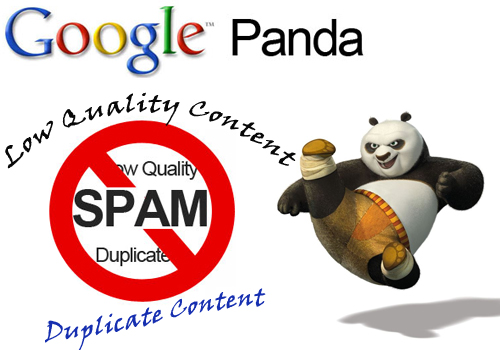 Google Panda penalizes low quality pages
Original content and good content
Google Panda says this algorithm is designed to reduce rankings for low-quality sites. So how does Google consider high quality? Read the article: How to create a high-quality website that is trusted by Google
Judging a site "quality" is rather vague and subjective. There will probably never be a complete agreement on what constitutes a "quality" website.
But the quality of a website must at least meet the following criteria for the value of content and user experience when approaching:
Secure your site well written (check grammar, spelling, etc.).
Do not copy directly from other sites.
If you write about a topic that others have written about, add value or something unique or useful to your readers.
Fast page loading speed 3-5s
Friendly presentation Clean and Clear, neat concise simple easy to understand
The ad rate on the page is balanced with the content of each page, so 3-5 ad areas should be high
What factors does Google consider to determine whether a site is high or low quality, and how can you identify those pages yourself? There is a checklist to check to determine which pages pass or fail such as search behavior, page load time to typos.
Factors used by Google to rate high-quality pages
Google offers several criteria for high-quality pages, here are a few:
Google wants unique content
They want to make sure that valuable content for searchers really unique/unique rather than just different words and phrases on the page
They really want high quality pages not just the resources, the domains, the high quality pages that link to it
The page that successfully answered the searcher's query (satisfied the searcher's request)
Fast loading pages with any connection (3G, 4G, mobile, desktop, tablet, …)
They want to see high-quality accessibility with Intuitive user experience and design on any device such as phone, desktop, tablet, notebook.
They want to see the content grammatically correct and spellable content.
Non-text content needs text alternatives. This is why Google recommends using the ALT attribute in images.
They also want to see the content is well organized and easy to understand. Presenting clean and clear content will have a better chance of being noticed by Google's machine learning system and you'll have a better chance of appearing on Google Search.
Next, they want to see the content mention additional sources for information or to cite sources. So linking out of the website to a trusted source is also good for your site, (this factor many SEOers are afraid to cite, give away a link and you will get more in return)
Learn more about Google's quality guidelines at: https://support.google.com/webmasters/answer/35769?hl=en
This is by no means an exhaustive list of factors to evaluate a high-quality page. But these are important factors for Google to determine whether a page is high or low quality.
Identify which low-quality pages need updating
Whether you decide to improve content or remove low-quality pages, you need to know where to start. The best way to identify pages that need fixing is to look at the pages on your site that have few visitors and/or a very high bounce rate. These are pages that don't rank or don't do anything for your site's overall performance because people move away from these pages too quickly.
There are a few tools that can help you identify which low-quality pages need fixing. eg Screaming Frog. Once you have it open, you can connect to your site's Google Analytics data and then Screaming Frog crawls the site, which you can then sort by bounce rate. There are also some filters to show you pages above 80% bounce rate (which is really too high) and pages that don't have GA data because nobody visits those…
High bounce rate: Not necessarily a bad thing if you solve the query problem simple and fast, users don't need other information and they exit immediately. So you really have to go into the pages you've identified using these methods and evaluate their quality
Once you identify low quality pages you should consider improving or removing these pages to avoid the Panda algorithm penalty, after deleting you track how much Google's indexing will improve and your indexes will improve. Numbers such as rankings, search traffic also improved well.
How to fix low quality pages
In general, Panda often affects your site because you have too many low-quality pages as a percentage of your total number of pages. So you need to fix low quality pages for that ratio to be healthy again. You can fix problems with low-quality pages in two ways:
Improve the content and quality of these pages. This means adding better written content, but it also means making sure you don't have too many ads on the page and improving the UX of the page.
You remove these low-quality pages or disallow search engines from accessing them. This last method is often referred to as the "Panda Diet".
Improve or remove?
Once you have determined which pages on your site need fixing, you need to start thinking about whether you want to improve or remove them. Pages that target keywords that are really important to you should be improved.
If other pages are targeting keywords that aren't compelling enough for your business, or they're not targeting at all, get rid of them. You can choose not to index them, thus preventing Google from showing them in the index, but I would recommend removing such pages better.
>> See more: Overview of 9 main Google algorithms
Good luck!
Seothetop

Source link: Google Panda Algorithm: How to Fix Low Quality Content Pages
– Witgie.com