Building a website structure like designing a building, building a small house is easy, but you can imagine if your building is like the 72-storey Keangnam building, how important is the architecture and structure. Website architecture is similar, you can when you want your website to grow, you will see the importance of building website architecture.

Website architecture like a skeleton, Internal links between pages are like muscle bundles in the body that are tightly and firmly linked to form a perfect masterpiece. Building a good architecture is a good foundation for successful SEO.
Content
Build a Good Website Structure for SEO and User Experience
6 Steps to create site structure
Website structure good is chance to get high rating more in search engines and especially bring good user experience. A tight structure and streamlined page layout is especially important, but Most websites don't pay enough attention to this issue leaving it messy and unorganized.
In this article I will share some of the best tips for creating a strong page structure. Good for users and good for search engines to crawl and index your site.
Why do you need a website structure?
The content presented above shows how important website architecture is, many websites overlook this important aspect. Here are a few reasons why website architecture is so important.
Reasonable good website structure will bring good experience and good response for users
Good site structure increases search engine ranking, reduces bounce rate, and increases time onsite stay on site these criteria will lead to improved search rankings.
Sitelink – Sitelinks is a list format in the SERPs that displays the main page of the site along with some internal links below it as shown below.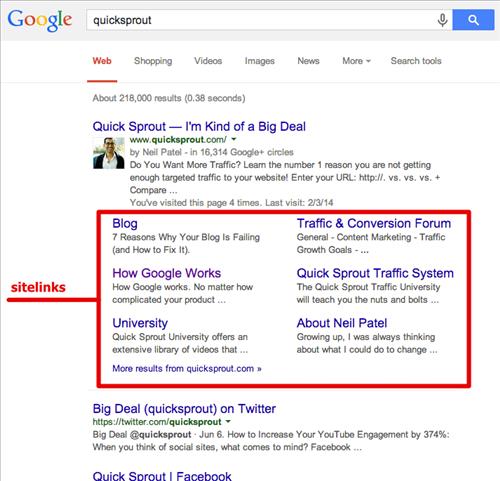 Sitelink shows up in search results
Sitelink is a great SEO advantage, increases user navigation to your website, shows users the most relevant and relevant information, increases your brand reputation, improves trust with users. , help you dominate in SERPs, increase click-through rate, increase conversion rate.
The Googlebot crawler crawls the structure of the website, the purpose of which is to index the content in the search results. A good site structure will help crawlers crawl and index the content.
While a website needs a sitemap page to make it easier for search engines to crawl, having a strong and logical website structure will help crawlers better when crawling pages that aren't in the sitemap.
In short, a good website organization paves the way for Successful SEO. In fact without a good page structure there will never be successful SEO. Good page structure provides an unbreakable SEO foundation that gives your website a huge amount of traffic from Search Organic.
6 Steps to create a website structure
If you're starting out building a website, you're in a great position to plan the best possible site structure for SEO. You can sketch on paper or use Excel or Visio as long as the page structure is well supported.
Hierarchy is a simple and meaningful way to organize information. The hierarchy will also become navigation and URL structure, so everything important starts here.
The site hierarchy looks like this: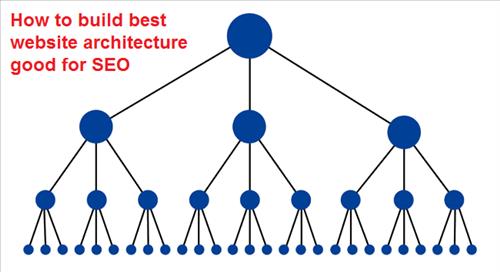 Hierarchical site structure
Image of Moz .'s hierarchical model
Let's create a logical hierarchical tree: Don't complicate this process, keep it simple for your own good and easy for search engine crawlers and users. Each main category must be unique and distinct. Each subcategory must be related to the parent category.
Hold number of main categories in about 2-7 items. Unless your site is huge like Amazon.com you don't want to have too many main categories. If there are more than 7 main categories you should review and reorganize to reduce the number of main categories.
Try balance subcategories (sub category) in each main category. If one item has 14 sub-categories, another has only 3 sub-categories, which leads to an imbalance of the hierarchical tree.
Website hierarchy is the beginning of creating a great site structure.
The second major factor is building the right URL structure. If you have created a reasonable hierarchy, creating a good URL structure is not too difficult. The URL structure will be hierarchical as follows: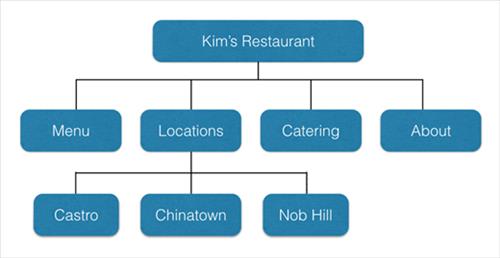 The URL structure of the website corresponds to the hierarchy
The URL structure for Chinatown is as follows: http://domain.com/locations/chinatown


Step 3: Create Navigation in HTML or CSS
When you create menus, keep the code as simple as possible. HTML and CSS are safe and good methods. Coding in Javascript, Flash, and Ajax will limit the ability of content crawlers and indexes.
Structure Website navigation of the hierarchy should not be more than 3 levels deep, it will be difficult for both the user and the search engine to have to click many times to reach the desired page.
Especially important content should not be too deep. A site with a good hierarchy does not force users to click more than 3 times to get to all the pages.
Eg:
Well organized URLs: https://seothetop.com/seo-onpage/rich-cards-157102.html
Step 5: Create a menu on the Header that lists the main items of the page
Organize the menu hierarchy, the subcategories are dropped by CSS effects, so using ancho text navigation structure instead of images like that is better for SEO
Internal linking is the framework of the website to present the content on it as the bones and flesh of the body need to be reasonable and perfect.
That's why internal linking is important:
Internal links help navigate website users
Help establish information hierarchy
Help share Pagerank power (link juice ranking power) among the website.
Create a tight and strong internal link like the muscles, the link of the website structure like the main skeleton of the website, that gives the solidity like building a building with good architectural design. .
Conclude
Site structure is a result of planning and hierarchical tree design good intentional and properly organized. The best time to do this is before creating a website. However, if your website design and organization is messy and too deep, it should be redesigned to be better for SEO and users.
There are many things to keep in mind when optimizing a website well for search engines. Website structure is one of the things most important need to do first if you want to continue to perform better website SEO. Once there is a logical and strong structure that will be the foundation for the next SEO optimization implementation will be successful.
Sitemap optimization is necessary in Technical SEO, to optimize other important components of technical SEO refer to: 17 Important Technical SEO Factors and How to Optimize
Articles to help improve site structure and navigation:
Good luck.
Dung Hoang

Source link: Good website structure is the foundation for successful SEO
– Witgie.com