A digital marketing strategy is a blueprint for how you can use different digital marketing channels to achieve your business goals.
As you design a digital marketing strategy, you need to consider which channels to use, the resources (people, time, and money) to assign to each channel, and what to expect in terms of results.
A common mistake I often see in many digital marketing managers or small business owners is that they try to do everything at once and end up with nothing at the end of the day.
Either it's because they don't have the expertise needed to run a digital marketing campaign or it's because they're spending their budget on channels that aren't right for their business.
In the content below, I will learn with you a real-life example of a digital marketing campaign, what a campaign manager needs and misconceptions in digital marketing.
Hint: You should read the content in detail previous post To be able to clearly understand the content below, you and I learn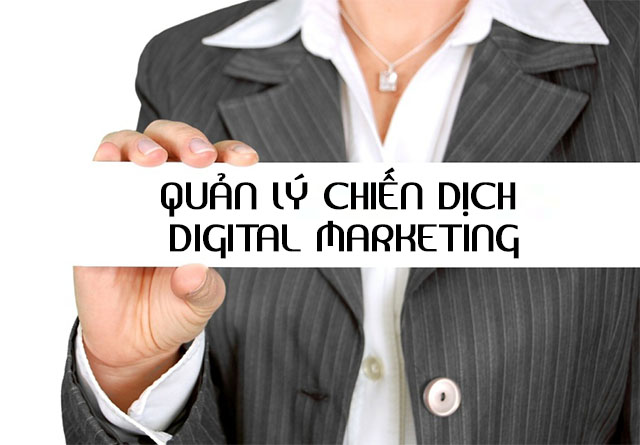 Example of digital marketing strategy
While digital marketing strategy is not unique and it is based on the specific needs and goals of the business, you can read below an example to help you understand how all marketing channels can work towards. General objective.
Example: The digital marketing strategy below is for a company that sells products or services online (online courses, e-books, etc.).
Step 1: Website The first step is to create a fast and mobile-friendly website. The site should have some Landing page – (or sales page) to introduce the company and its products.
Step 2: SEO – The next step is perform SEO audit and identify areas that need to be optimized for SEO. Technical SEO needs to be addressed first, followed by OnPage SEO and OffPage SEO.
Step 3: Content Marketing Based on the results of thorough keyword research and the results of the SEO Audit, you should create a content marketing plan that includes:
What type of content to create for a website (text and video)
Publication time (publishing calendar)
How to promote it (may include social media channels, email and PPC campaigns).
Step 4: Social media marketing Use all social media marketing campaigns to promote brand awareness and sales. Determine which social media channels are right for marketing your business (based on a list of customer profiles) and create a schedule for publishing content on those networks.
At the same time, start creating lists of influencers and others most likely to be interested in your product or share your content on that social media.
Step 5: Email Marketing Start building an email list with a few featured areas on your website and social media channels. (for example vietnetgroup.vn uses mailchimp on the sidebar)
Your initial goal is to get people to subscribe to your new content, or sign up to download free material or sign up for a free trial.
Create several email marketing channels to "drive" your subscribers from the awareness stage to the conversion stage.
Step 6: Advertise PPC – In parallel with the above activities, setting up an AdWords Campaign to target people searching for product-related keywords on Google and a remarketing (remarketing) campaign on Facebook to pursue visitors. your site hasn't converted yet.
Step 7: Video Marketing Part of step 3 above is determining what topics/keywords you can create video content on. Publish your video on a dedicated YouTube channel, on Facebook, Instagram, and any other platform you're targeting in your campaign.
For each video, create a blog post on your website and embed the video with text content.
Step 8: Mobile Marketing – Consider creating a mobile app that users can download from the App Stores that will include the latest news and ways for people to access your courses through your app.
Step 9: Measure and analyze the results – Make sure you have installed and configured Google Analytics accurate and you can accurately measure the effectiveness of the campaigns above.
Create an excel spreadsheet and add each campaign details in terms of cost, visits, number of conversions, people reached, etc.
The example above is just a summary of what your digital marketing strategy should include. If you're a small business with limited resources, you won't normally be able to execute the entire plan in the first place.
What you should do is follow a step-by-step approach starting with your website, SEO and content marketing.
Once you manage after a month, you will gradually experience an increase in traffic and revenue and then you can add other tools to coordinate in the campaign.
What is the job of a digital marketing manager?
The role of the digital marketing manager is to create a well-defined strategy. It's his job to decide which channels to use, where to allocate the budget, and in what order.
The digital marketing manager also has the role of overseeing the work of other management personnel and ensuring that everyone is working towards similar goals.
A typical "digital marketing team" has the following roles:
Digital Marketing Manager
A person with good skills and knowledge regarding:
SEO
Social network
Content Marketing
PPC . advertising
SEO Expert not a digital marketing manager. The DM manager has a broad understanding of ALL digital marketing channels not just SEO.
Most successful digital marketing managers have SEO experience who have experience working with other marketing channels.
Content Marketing Manager
A content marketing manager is responsible for creating and executing a content marketing plan. It's up to you to decide what kind of content to create and which channels to use.
Manage social networks
It is the person responsible for promoting a company through various social networks. This person needs to work closely with the content marketing manager to get the right content to the right people at the right time.
SEO Management
Depending on the team structure, you decide to have a dedicated SEO manager who can assist with marketing for SEO related tasks.
PPC Management
A PPC manager is responsible for running paid campaigns on different platforms mainly Google Ads, Facebook Ads. I usually see that there are 2 popular channels in the Vietnamese market.
PPC managers can get a certificate of competence from Google or Facebook, which can also be a way to demonstrate their qualifications. Of course, you should still prioritize actual testing practice.
Email Marketing Management
The email marketing manager's job is to ensure that every lead is on the email list, this email list is pulled through all other channels and imported into the right email channels eventually to that person uses with the ultimate goal of converting.
A proper email marketing campaign turns leads into customers and this is why you need a dedicated manager to oversee these activities.
Misconceptions about digital marketing
The term 'digital marketing' is relatively new and that's why it's become popular for people to use it. However, I need to analyze some issues for you to better understand it.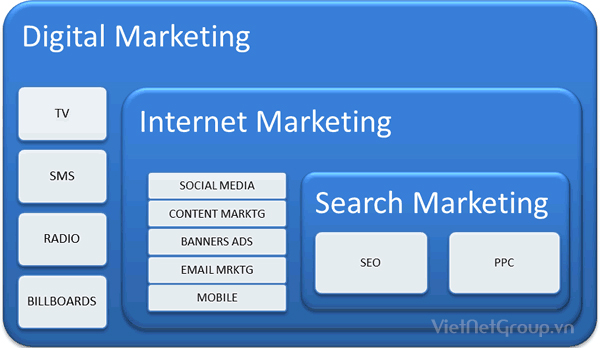 The most common misconceptions are:
Digital Marketing and Internet Marketing
Internet Marketing is a sub-set of digital marketing and is not the same.
Internet marketing or online marketing refers to the methods you can use to run campaigns on the Internet.
As shown in the diagram above, the main components of Internet marketing are: Search Engine Marketing (including SEO and PPC), social media marketing, content marketing, email marketing, affiliate marketing. Mobile marketing and video marketing.
Digital marketing is over and includes internet marketing as it includes other digital channels.
Digital marketing and Social media marketing
When you have an active social media presence, you are essentially running a social media marketing campaign, not a digital marketing campaign.
Social media marketing is just one of the components of digital marketing. To experience the full benefits of digital marketing, you need to add more digital channels to your plan.
HELP YOU LEARN BETTER

Digital marketing is all about marketing on the internet and other electronic devices. It is not a single process but it does include a number of sub-components that you can use depending on what you want to achieve.

Not all methods are right for every business, which is why it's important to come up with a digital marketing strategy that will detail how you'll use each process.

The digital marketing manager is the person responsible for keeping track of all activities.

It is someone who needs to have a broad knowledge of how the internet works in order to be able to decide which marketing activity is more appropriate for a particular project.

Other typical members of a digital marketing team are: content manager, SEO manager, social media manager, email marketing manager, and PPC manager.
Source link: Build a digital marketing strategy. Manager's job
– Witgie.com